Quorum onQ Flex

The Best Disaster Recovery Product on the Market Today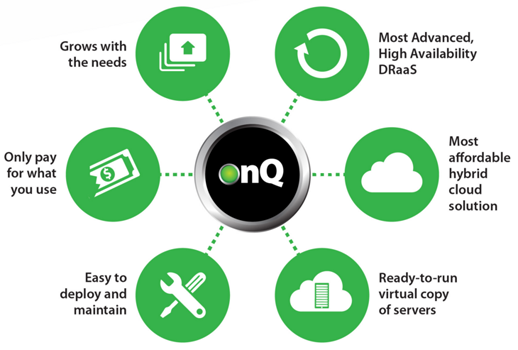 Sorry, this product is no longer available, please contact us for a replacement.
Overview:
onQ Flex is an extension to Quorum's award-winning and patented onQ Disaster Recovery as a Service (DRaaS) product that delivers the world's most advanced High Availability and Disaster Recovery when you need it. Quorum's Disaster Recovery on Demand technology offers customers the ability to spin up recovery nodes in the event of a disaster. onQ Flex combines Disaster Recovery on Demand and Instant Disaster Recovery capabilities to deliver priority recovery of mission critical servers. onQ Flex is the only product on the market that offers both Disaster Recovery on Demand and Instant Disaster Recovery.  this gives our customers the same benefits as a replicated datacenter, in a simple and powerful way and at a much more affordable cost.
How does it work?
Within days of set up, Quorum DRaaS experts will have handled every aspect of deployment to ensure a high availability appliance on site, protecting servers against failures. In case of a disaster, a recovery node is spun up on demand and companies will be back in business.
Flex IT Power
onQ Flex allows businesses to prioritize based on the level of protection you want for each server. onQ Flex is the only solution available that allows administrators to assign the different recovery levels to each server in an IT environment. The varying levels of protection allows businesses to meet their RTO needs.
Flex IT Budget
onQ flex Disaster Recovery on Demand allows businesses to only pay for what you need, when you need it. onQ Flex leverages Quorum's technology while controlling cost through on demand disaster recovery
Flex IT Planninges
onQ Flex adapts to growing businesses. onQ Flex allows for easy change from DR on Demand to Instant DR as mission critical servers grow and RTO requirements change.
onQ Flex Provides
Instant Disaster Recovery - Up-to-date virtual clones of Instant DR protected servers are ready-to-run on local appliance and/or in the Cloud with just one click
Recovery on Demand - a recovery node is created using the latest backup and can be started as needed in the Cloud
Simple Management - no specialized knowledge is needed to use onQ's browser interface
Rapid Deployment - no multi-month complex protects and integration services...onQ has you protected in hours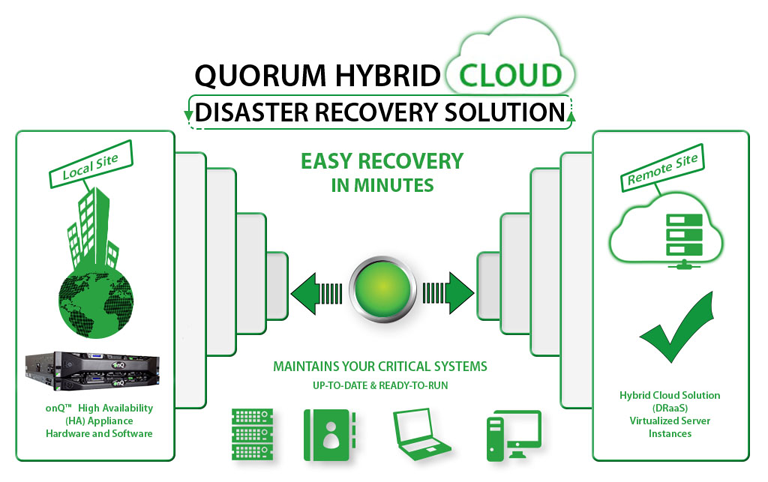 One product with incredible value
onQ is packed with features that would require multiple products from other vendors. onQ is quick to install and configure and easy to use. Check out all of these features!
Features:
Complete Continuity
One-Click Recovery
One-Click Testing
Replication-compressed & encrypted
Protection for storage, system, and site failures
Integrated server monitoring
Email and text alerts
Scheduled email health reports
Data Protection & Recovery
Full system imaging
Supports physical and virtual servers
Sub file-level incremental updates
Global deduplication at source
Powerful exclusion rules
Bare metal restore to any snapshot level
File-level recovery to any snapshot level
Flexible Deployment
Bandwidth throttling
Internal and External storage
No per GB or per month storage charges
Supports all applications without add-ons
onQ Product Comparison:
Part Number
onQ Flex
onQ Prime
onQ Plus
onQ On-Site
Featuring
Flexible Protection
Full Protection for Smaller Systems
Full Protection for Larger Systems
Full Protection for Larger Systems
Protected Storage
Starts at 1 TB
Up to 4 TB
Starts at 1 TB
Starts at 1 TB
Disaster Recovery as-a-Service (DRaas) on Demand
Hybrid Cloud (DRaaS)
On-Site
Customized to Your Environment
Instant Disaster Recovery
Automated Testing
Optional
Included on all Options
High Availability, Restore Options (including BMR), Compliance, Scalable Architecture, Simple - Easy to Use Interface